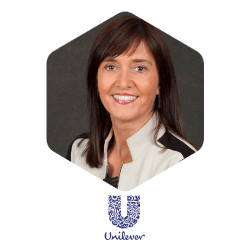 Yolanda Menal has a degree in Psychology from the University of Barcelona and she started her professional career in HR at SEAT as an HR Advisor in the area of selection and development. During the 9 years in Seat she assumed various responsibilities and she evolved into an accomplished and very committed HR Manager.
In 2001, she joined Nike as HR Director for Spain and Portugal and in 2008 she was appointed HR Director for the Sub Mediterranean region. In 2010, Yolanda joined Unilever as HR Director for Spain, where she continues today. She has more than 25 years of human resources experience in multinational companies and more than 16 years in leading HR roles.
Yolanda is passionate about being part of organizations where people are the center and her mission is to be able to support their professional and personal growth. She is especially motivated to work in dynamic and innovative environments where she can inspire and be inspired to achieve the best version of herself and support the people around her to achieve it, too.