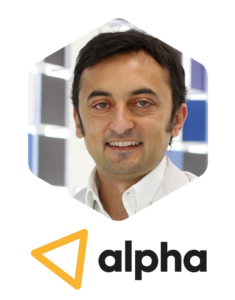 Born in Asturias, Pablo Rodríguez is now CEO of Alpha, a Telefónica company. It is Europe's first "moonshot" factory, developing new innovative ideas and full-blown moonshots: projects that will affect over 100 million people, be a force for good on the planet and grow into impactful new businesses.
With over 20 years of experience, Pablo worked in several Silicon Valley start-ups (Inktomi, the world's largest search engine before Google, and Tahoe Networks, building the first routers for mobile networks). He also worked at Microsoft Research on the Microsoft Windows update to improve cybersecurity using peer-to-peer networks (released in Windows 10). Prior to that he worked at Nokia Bell Labs (New Jersey), accelerating the speed of the web over cellular networks with products now adopted world-wide.
At Telefónica he established its research arm (networks, data science, AI) in 2006 and led its Product Innovation Unit, driving ideas to early stage commercialisation with an innovation model now featured as a case study in the Harvard Business Review. He launched Telefónica's Video Content Delivery Network, used to stream the Olympics and the Champions League to millions.
He co-founded the Data Transparency Lab, a privacy NGO, and has also worked with chef Ferran Adria (El Bulli) and F.C. Barca, applying data science to gastronomy and football strategies.
Before his tenure as a business executive, Pablo received his PhD in Computer Science from the Swiss Federal Institute of Technology (EPFL) and was appointed as an Adjunct Professor at Columbia University, NYC.
He has over 200 publications under his belt and 30 patent inventions for networks and content distribution. He received the Telefónica Bravo Award for innovation practices, the IEEE Test of Time Award and the Prix de la Recherche for innovation excellence. He is a Fellow of both the ACM and the IEEE. He has delivered keynote speeches at WIRED and TEDx and sits on the advisory boards of Akamai, EPFL, LaBoral Art Center and IMDEA Networks. He is also an angel investor in tech start-ups.