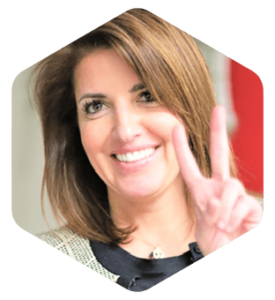 Mar Romero Galán, Chief People Officer of the Telepizza group, has more than 15 years of experience in Human Resources and cultural transformation of large multinationals.
Under a strategic approach to people management, Mar's objective in the Telepizza group is to recruit, retain and develop the best talent, always aligned with the company's culture and values in order to achieve business results, through the implementation of new ways of working and with the obsession of offering teams the best employee experience.
Previously she has held management positions in companies such as Grupo Bodybell, Burger King or Deloitte, taking responsibility for the Human Resources strategy, implementing new organizational models, executing training and development plans that allow people to grow and bring out the best version of themselves, among many other roles.
She has a degree in Business Administration and Management with specialization in Marketing from the Autonomous University of Madrid, and a Master's Degree in Human Resources Management from the Center for Financial Studies.
The Telepizza group is the largest pizza operator in the world. It operates in more than 37 countries through different brands such as Telepizza, Pizza Hut, Jeno's Pizza and Apache Pizza with more than 45,000 employees worldwide, through a vertically integrated business model with seven production plants.