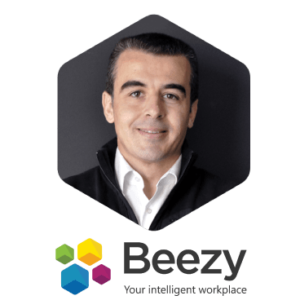 Jordi Plana is a 43 year old serial entrepreneur. He studied Computer Science and founded his first company at the age of 20.In 2001 Jordi invested (via sweat equity) in his first Internet business. He sat in the Board of the company until it was successfully sold in 2006 after four years of triple digit growth. Also in 2001 Jordi founded Spenta, an IT consulting services boutique specialized in SharePoint Intranets that soon became a strategic provider of Microsoft central HQ. In 2009 & 2011 Spenta was awarded World Wide Partner of the Year Winner & Finalist amongst 640.000 partner companies globally.
In 2011 Beezy (www.beezy.net) was created within Spenta to change the way people work, making organizations more productive, more social and ultimately happier. It soon generated a massive momentum amongst large global customers. Today Beezy is a US corporation based in San Francisco, CA with close to 1M paying users.
Born in Girona (Spain) and former motorbike racer, Jordi likes snowboarding and running half marathons. He is a proud FC Barcelona supporter that enjoys life 2.0 between California and Barcelona.