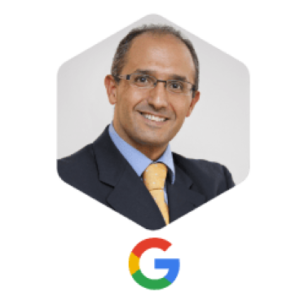 Isaac Hernández has been appointed new director of Google Enterprise for Spain and Portugal. He will be responsible for developing and directing the division strategy for the companies for the subsidiaries in Spain and Portugal.
His mission will be to help their customers to improve their results by leveraging Google's cloud solutions. With more than 20 years of experience in marketing, sales and business development in various sectors (informatics, internet, mobility and telecommunications), Isaac has held various
management positions in multinationals such as Vodafone or Microsoft.
Prior to joining Google, Isaac was Director of the Wholesale Business Unit at Vodafone Spain, where he held various management positions since 2008.
Previously Isaac had developed his professional career for 20 years in Microsoft, Latin America, Spain and Europe, where he held executive positions in the areas of marketing, sales and business development in many cases oriented to large companies. Isaac held, among others, the positions of Director of Sales Operations, Director of Sales of Companies, Director of Marketing or Director of Business Solutions and Internet.
Born in La Orotava (Tenerife), Isaac Hernández holds a degree in Telecommunications Engineering from the Universidad Politécnica de Madrid.
He also successfully completed extensive complementary education programmes, such as a degree from the Executive Program for General Management at the IESE Business School – University of Navarra or an
Executive MBA from the Instituto de Empresa (IE), as well as various degrees in management, leadership and sales from other business schools such as the Kellogg of Chicago (USA) or the IMD of Lausanne (Switzerland).