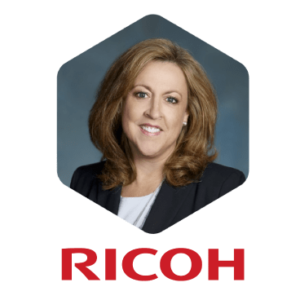 Donna Venable was appointed Executive Vice President, Human Resources for Ricoh in the Americas in April 2015.  She is responsible for overseeing human resources activities for all Ricoh locations in the U.S., Canada and Latin America. This includes leadership development, employee relations, succession planning, total rewards, diversity and corporate social responsibility.
Donna was also named Corporate Associate Advisory Officer of Ricoh Company, Ltd., which expands Donna's role to include Ricoh's global HR initiatives as she works with leadership and HR teams in Japan. She is an accomplished professional who has been key to Ricoh's transformation to a services-led organization and aligning Ricoh's worldwide HR efforts.
Donna most recently served as Senior Vice President, Human Resources for Ricoh after holding the same role for IKON Office Solutions before its acquisition by Ricoh. She has more than 14 years of human resources experience with IKON, and 22 total years managing HR functions.
Donna is a graduate of Franklin and Marshall College in Lancaster, Pennsylvania. She is engaged in the HR community serving as a board member of the HR Executive Alliance and co-chair of the HR Executive Summit, Pennsylvania and New Jersey Chapters. She has presented at industry speaking engagements focused on leadership and employee development, and has been featured in Chief Learning Officer magazine.